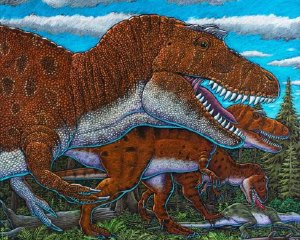 Nanuqsaurus
Cruisin' the Fossil Coastline
Travel to the prehistoric past with Cruisin' the Fossil Coastline at the Tongass Historical Museum. Be prepared to look at the world in a whole new way in this "epoch" exhibit on Alaska fossils. Cruisin' the Fossil Coastline is an imaginative blending of science and art - with artwork and fossils ranging from polar dinosaurs, giant marine reptiles, palm filled forests, to tiny trilobites and much more.
Artist Ray Troll and paleontologist Kirk Johnson, director of the Smithsonian National Museum of Natural History, logged more than 10,000 miles and 250 days traveling the North American coast in search of fossils and the stories they tell. They visited museums, dove into research collections, hung out with fellow scientists and artists, and visited active dig sites via automobiles, small airplanes, and boats.
This exhibit focuses on their fossil adventures with highlights from Southeast Alaska and the remarkable stories that fossils reveal. Learn about the history of life on Earth punctuated by killer asteroids and mass extinctions. Discover the ancient geology of prehistoric Alaska and its giant marine reptiles, the ichthyosaurs, found on nearby islands. Come face to face with a giant Ice Age bear and its cousins in the sea, the seals and sea lions. On display for the first time are Ray's original field books and sketches from when he was cruisin' the fossil coastline.
Click Here to Start the Exhibit.
Activities:
Coloring pages:

Print, color, and assemble these paper hats drawn just for you by Ray Troll!

Supplies:

Printer
2 sheets of 11"x17" paper (8.5"x11" if you're making a hat for a kiddo!) for each hat
Crayons, markers, or colored pencils
Scissors
Glue or tape
Download the PDF of the hat you'd like to make.
Decorate both pages of the PDF and cut them out.
Place the two sides together, image sides facing out.
Using tape or glue, adhere the edges of both sides together. Don't glue the bottom or you won't be able to wear it as a hat!
Take a picture of your dino design and share with us!@KetchikanMuseums on instagram with the hashtag #KetchikanCruisin